Pigmentvlekken? Weg ermee!
Summer is the time for vacations, trips, fun, sun, sea and sand! And, on the other hand, also for pigment spots in the face. But the latter does not have to be the case!
Pigmentation problems are a growing global problem. Regardless of skin color or age, they are a major problem because of their unattractive appearance and negative psychological and emotional impact, which affect self-confidence. Skin hyperpigmentation is caused by an abnormal production of melanin, the pigment responsible for skin color, causing uneven skin tone and dark spots.
Fortunately, the latest developments in the cosmetic world have produced innovative and effective products and solutions that help prevent and combat this skin problem. In this blog we will explain what these unwanted brown spots are, why they appear and especially how we can reduce them in an efficient way.
What are pigment spots?
Among the different types of brown skin spots that can appear due to various factors, the most common are spots caused and intensified by the sun, especially on the face.
Pigmentation spots, also called hyperpigmentation, are an excessive, irregular and localized accumulation of melanin (pigment of the skin) caused by various internal and external factors.
The most common skin spots are:
Melasma: 

are irregular, brown spots of hormonal origin that can be aggravated by sun exposure.

Think of the well-known pregnancy mask.
Age spots:

 These different colored spots are caused by the combination of skin aging and sun exposure.

Freckles:

 The typical congenital freckles increase with age, but also become more visible when exposed to the sun.
Why do they appear?
UV rays are undoubtedly the main trigger when it comes to stimulating spots of melanic origin. And we underline "trigger," because it's very common for the sun to conspire with other factors: age, genetics, hormonal changes, or exposure to harsh environmental factors. That's why we find them more often on the face, arms or neckline, the areas most exposed to sunlight.
How to remove pigment spots?
Within our extensive range of Mesoestetic products, there are some solutions that have been specially developed for pigmentation in the face. 
1.Professional Treatment: Cosmelan
"The most efficient depigmenting treatment in the world. More than a million satisfied clients with exceptional results".
Before the Cosmelan treatment can be started, an intake interview at our recognized Mesoestetic Center GLAM is required for a diagnosis of the pigmentation problem. You will receive advice on how to proceed with the treatment, what to expect and how to use the home products.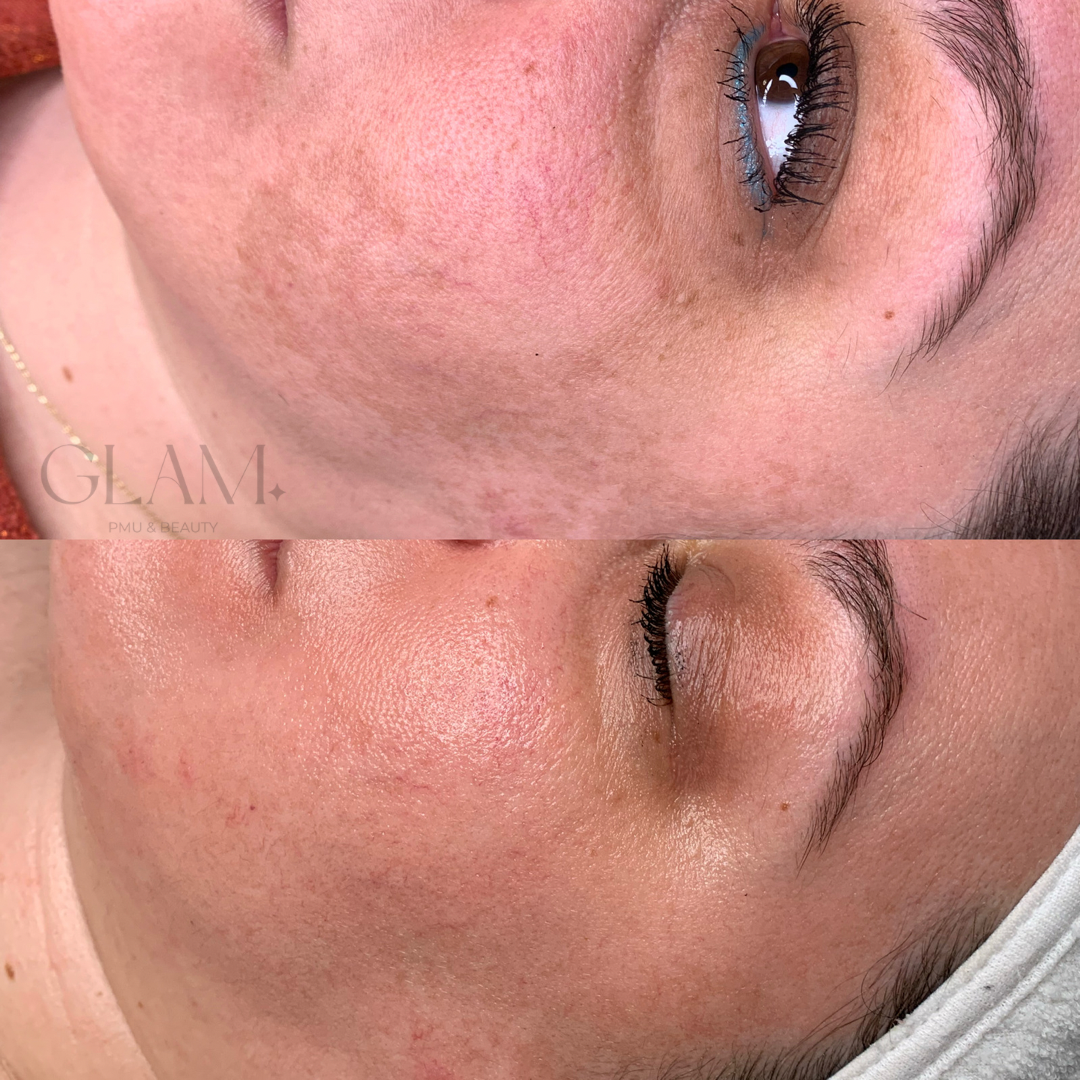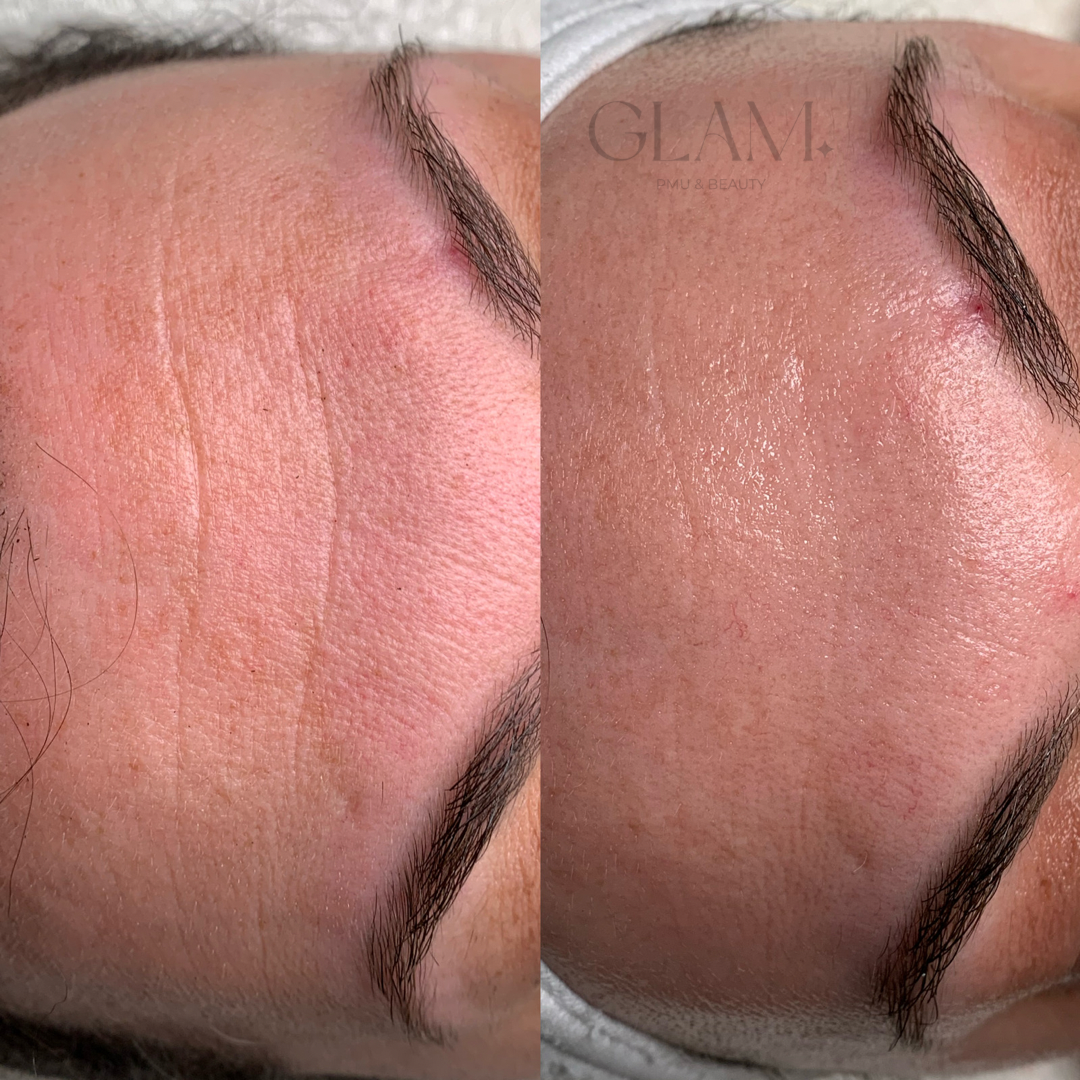 How does a Cosmelan treatment for the removal of pigment spots work?
1. Preparation:
To properly prepare the skin for the Cosmelan mask, the skin must have a certain tolerance and condition before you can start. The skin is treated at home with the recommended preparation products at least 14 days in advance. In this way, the acids remove dead skin cells, making the Cosmelan treatment more efficient and reducing the risk of side effects.
 
2. Treatment session 1:
The skin is treated in the cabin with Mesopeel Melan Tran3x, on average 5-7 days before the Cosmelan 1 mask.

3. Treatment session 2:
The Cosmelan 1 mask is applied in practice. Depending on your skin type, this mask will stay on the skin for 8-12 hours. After this period, you can remove the mask from your face at home with the accompanying products. It is therefore recommended to perform this treatment in the morning and not do anything during the day. So that you can let your mask take effect at home.
​4
. Check-up time:
About 48 hours after the removal of the Cosmelan 1 mask, an appointment will be made for a check-up and you will receive Cosmelan 2 cream to take home to start the follow-up treatment.

5. After-treatment:
At home you continue the treatment with the corresponding products that are included in the starter pack. The total treatment takes about 6 months.
More information about this treatment can be found via: www.glambeauty.be/cosmelan
2.Home treatment: Melan Tran3x
In addition to a professional treatment, you can opt for a home treatment to relieve pigmentation and acne spots. Melan Tran3x is the depigmenting line that removes pigmentation spots by acting on different skin layers and contains two products that work synergistically: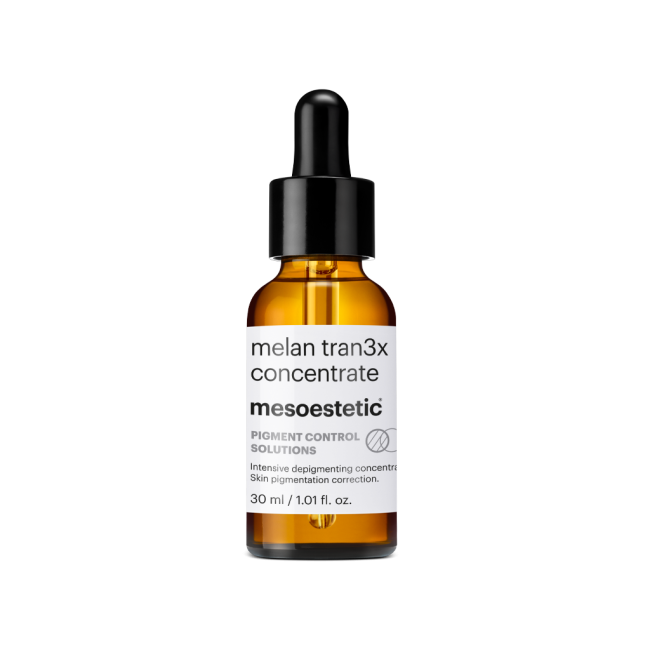 Apply 3-4 drops of Melan Tran3x concentrate daily in the morning and evening on clean, dry skin and distribute evenly. Then apply Melan Tran3x gel cream over it and massage in until the product is completely absorbed. Do not rinse.
3.Preventive: Mesoprotech® Melan 130 Pigment Control
Use Melan 130 Pigment Control daily preventively if you suffer from hyperpigmentation. This sun cream contains an exceptionally high SPF and is ideal for skin with pigmentation spots and skin that is influenced by hormonal processes such as pregnancy. A depigmenting ingredient helps to regulate melanin synthesis and thus acts intensively against the formation of pigment spots. The tinted texture provides a natural complexion and smoothes out imperfections. Provides a nice 'glow' on the skin.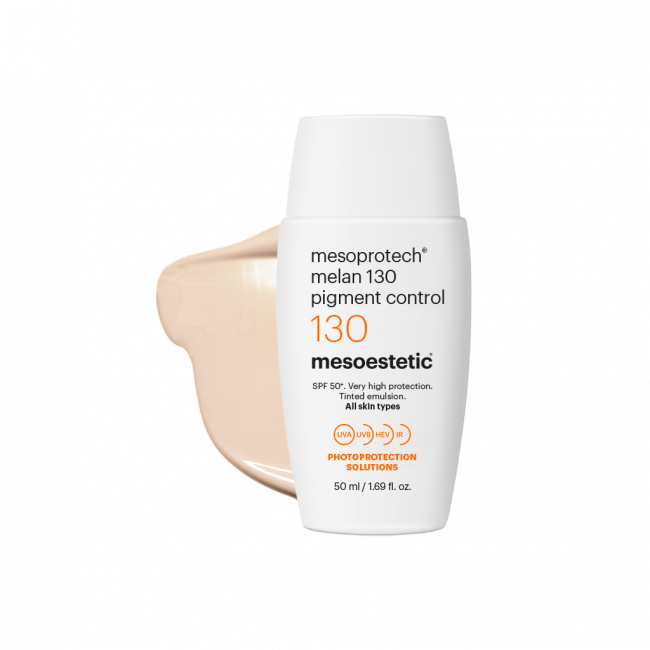 View all Mesoestetic products against hyperpigmentation here .